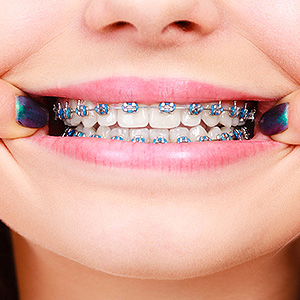 Orthodontics—the science and art of straightening teeth—plays an important role in ideal dental health. Moving teeth to the places they should be makes them easier to clean (reducing your risk of dental disease) and improves chewing function to better facilitate digestion and overall nutrition.
Although improved health is the primary gain, orthodontics can also provide a secondary gain that can also benefit your life—a more attractive smile. In a sense, orthodontics is the original smile makeover.
Here's how orthodontics could give you a more attractive and healthier smile.
It begins with the orthodontist. Orthodontists are specialists in bite correction. They have advanced training to assess and improve the development of the jaws, the alignment of the teeth and how all that comes together to form a person's individual bite. They'll use their training and expertise to perform a comprehensive orthodontic evaluation to understand your particular bite issues before presenting you a treatment plan.
Putting the plan together. During those first exams, your orthodontist will take a lot of information—specialized x-rays, photographs and dental impressions—to acquire the "big picture" about your particular bite problems. From this, they'll develop a detailed plan for how best to correct your bite. Besides braces or clear aligners to actually move the teeth where they should be, the orthodontist may also include other specialized appliances for fine-tuning that movement.
The process itself. Orthodontists use their knowledge and skills to work with the teeth's natural ability to move in response to changes in the mouth. The orthodontist uses braces or clear aligners as the foundational treatment to apply focused pressure on teeth in the direction they need to move. The underlying bone and periodontal ligaments respond, and the teeth gradually move to their new and improved positions.
Correcting a poor bite usually takes months or even years of focused attention. It may also require the expertise of other dental professionals like periodontists, oral surgeons or general dentists for a successful outcome. But that end result is well worth the time and effort. An improved bite is an investment in better long-term health, and a new, beautiful smile.
If you would like more information on improving your smile through orthodontics, please contact us or schedule an appointment for a consultation. You can also learn more about this topic by reading the Dear Doctor magazine article "The Magic of Orthodontics."