Posts for: October, 2017
By PHM Orthodontists
October 28, 2017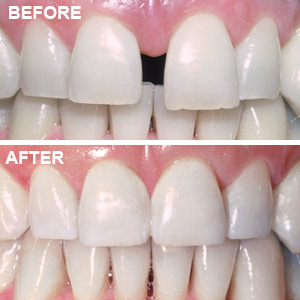 Orthodontists are able to achieve attractive results with traditional braces moving several teeth into a better position. In a way, braces are the original "smile makeover."
But orthodontic treatment can also be useful if only a few teeth (like the two upper front teeth) need to be moved slightly. A treatment known as minor tooth movement takes only a few months as opposed to years for traditional multiple teeth movement, and with removable appliances that may use small springs or elastics to place gentle pressure on teeth to move them.
So, what constitutes a minor tooth movement scenario? As with any dental condition, the first step is a complete dental examination, particularly the bite. We also need to determine if enough room exists to close any space without compromising the bite with the opposing teeth, and if the teeth and their roots are in a good position to allow minor movement — otherwise, more extensive treatment may be called for. The surrounding gum tissues and bone also need to be healthy and disease-free, especially in adults.
We may also need to look more closely at the actual cause for a front tooth gap. If the gap is the result of the tongue habitually pressing against the back of the teeth and pushing them forward, it may then be difficult or impossible to close the gap with minor tooth movement techniques. The cause may also originate from the frenum (a thin, muscular tissue that rises up from between the upper front teeth toward the lip) if it has extended too far between the teeth. In this case we may first need to surgically remove some of the frenum tissue before attempting orthodontics or the teeth may gradually move back apart after closing the gap.
Although minor tooth movement normally doesn't take as long as braces, it may still require several months. And just like with braces, you will need to wear a retainer for several months afterward until the bone stabilizes around the new position. Still, minor tooth movement could have a major impact on your smile.
If you would like more information on orthodontic treatments, please contact us or schedule an appointment for a consultation. You can also learn more about this topic by reading the Dear Doctor magazine article "Minor Tooth Movement."
By PHM Orthodontists
October 13, 2017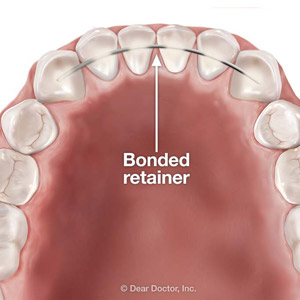 If you've known anyone who has worn braces, you know what comes after — wearing a retainer. This can be kind of a letdown after all those months with braces, but it's absolutely necessary.
That's because teeth have a tendency to "rebound" to their pre-orthodontic positions once the force to move them stops after the braces are removed. Retainers help keep or "retain" moved teeth in their new positions and prevent them from reverting to the old.
When you think "retainer," you probably picture a removable appliance with a wire that fits over the front of the teeth. While that may be the most common type, it isn't the only one. There's another called a bonded retainer, a thin piece of wire bonded to the back of the teeth that need to be retained. Unlike the other type, a dentist must remove a bonded retainer when it's no longer needed.
The biggest advantage of a bonded retainer is its invisibility — the wire is behind the teeth so no one can see it as with a removable retainer. The wire is bonded to the teeth with a dental composite material and then light-cured to create a strong attachment.
Another advantage is especially pertinent to younger patients. Because it's permanently attached and can't be taken out, there's no constant reminding of the patient to wear it — and no more worries about replacing a lost one.
They can, though, be difficult to floss around leading to potential plaque buildup that increases disease risk. It's very important you receive proper hygiene instruction for cleaning under the bonded retainer. Another concern is that they can break under excessive chewing pressure. And as with the more common retainer, we wouldn't want to remove it as that will result in the teeth's relapse to their old positions.
To learn which retainer is best for your situation, you should discuss the options with your orthodontist. Regardless of which type you choose, though, a retainer is a must for protecting your investment in that new smile.
If you would like more information on orthodontics and retainers, please contact us or schedule an appointment for a consultation. You can also learn more about this topic by reading the Dear Doctor magazine article "Bonded Retainers."