Posts for: September, 2018
By PHM Orthodontists
September 20, 2018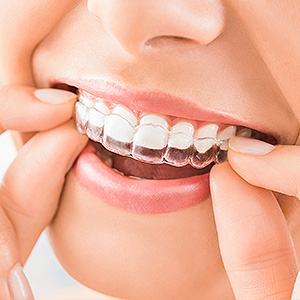 If your teenager is in need of orthodontic treatment, you might automatically think braces. But while this decades-old appliance is quite effective, it isn't the only "tooth movement" game in town any more. Clear aligners are another choice your teenager might find more appealing.
Clear aligners are a sequential set of computer-generated plastic trays that are worn by a patient one after the other, usually for about two weeks per tray. The trays are fabricated using 3-D computer modeling of the patient's mouth, each one slightly different from the last to gradually move teeth to the desired new positions.
So, why choose clear aligners over braces?
They're nearly invisible. Because they're made of a clear polymer material, they're not nearly as noticeable as metal braces. In fact, they may go completely unnoticed to the casual observer.
They're removable. Unlike metal braces, which are fixed in place by an orthodontist, clear aligners can be removed by the wearer. This makes brushing and flossing much easier, and they can also be removed for eating or special occasions. That said, though, they should be worn at least 20 to 22 hours each day to be effective.
They're becoming more versatile. With some complicated malocclusions (poor bites), braces and other orthodontic appliances may still be necessary. But innovations like added power ridges in clear aligners can more precisely control which teeth move and which don't. This has greatly increased the number of poor bite scenarios where we can appropriately use clear aligners.
If you'd like to consider clear aligners, just remember they require a bit more self-discipline on the part of the wearer than braces. And once the treatment finishes, they'll still need to wear a retainer just as with metal braces to help keep the repositioned teeth from reverting to their old positions.
If you think your teen is up to the challenge and their particular situation can be corrected with this innovative technology, then clear aligners could be a great choice.
If you would like more information on clear aligners orthodontic treatment, please contact us or schedule an appointment for a consultation. You can also learn more about this topic by reading the Dear Doctor magazine article "Clear Aligners for Teens."
By PHM Orthodontists
September 10, 2018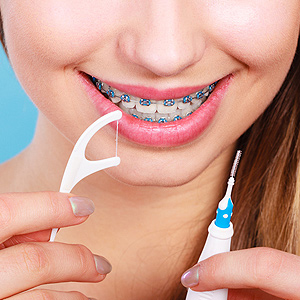 If you're about to undergo orthodontic treatment, you're going to face a challenge keeping your teeth and gums clean wearing braces. That in turn could increase your chances for tooth decay or periodontal (gum) disease, which could diminish your future dental health and disrupt your current orthodontic treatment.
The main hygiene tasks of brushing and flossing are more difficult with braces because of the fixed hardware on the teeth. Your toothbrush or floss can't always easily maneuver around the wires and brackets, increasing the chances you'll miss some areas. These neglected areas can then accumulate dental plaque, a thin film of bacteria and food particles that's most responsible for disease.
But although difficult, effective oral hygiene isn't impossible.  First and foremost, you'll need to take more time to be thorough with brushing and flossing than you might normally without braces.
Second, there are some specialized hygiene tools to make the job easier. Instead of a regular toothbrush try an interproximal brush. This special brush has a long and thin bristled head (resembling a pipe cleaner) that can maneuver in and around orthodontic hardware much easier than a regular brush.
For flossing, use a floss threader, a device through which you thread floss on one end and then pass the other sharper end between your teeth. Once through, you release the floss from it and floss as usual, repeating the process with the threader for each tooth. Another option is an oral irrigator, a device that emits a pressurized spray of water between teeth to loosen plaque and flush it away. Many orthodontic patients have found this latter option to be quite effective.
Finally, continue seeing your regular dentist for regular appointments in addition to your orthodontist. Besides cleaning those hard to reach areas, your dentist can also provide other preventive measures like topical fluoride for strengthening enamel and prescription mouth rinses that inhibit bacterial growth. You should also see your dentist immediately if you notice signs of disease like spots on the teeth or swollen or bleeding gums.
Keeping your teeth clean while wearing braces is a top priority. Doing so will help ensure your new smile after braces is both an attractive and healthy one.
If you would like more information on dental care during orthodontics, please contact us or schedule an appointment for a consultation. You can also learn more about this topic by reading the Dear Doctor magazine article "Caring for Teeth during Orthodontic Treatment."